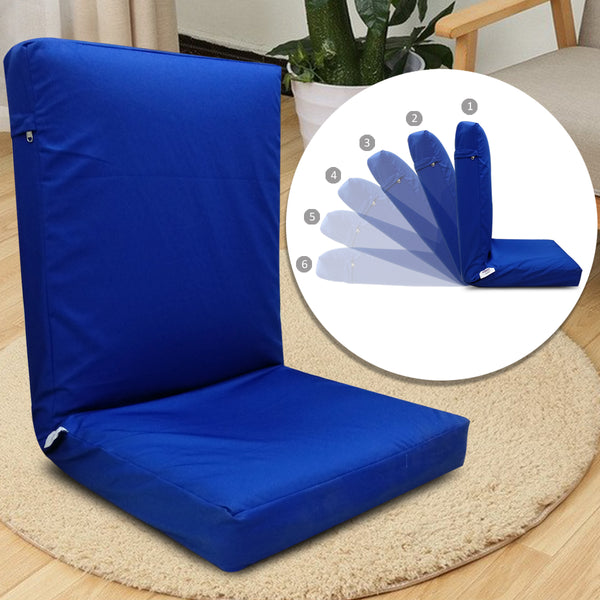 Kawachi Adjustable Back Support Relax Recliner Floor Chair Sofa with Cushion I116 (Blue, Standard Size)
• COMFORTABLE ADJUSTABLE BACK SUPPORT: Kawachi Recliner Sofa Chair is comfortable and the backrest is adjustable at various angles.• MULTIPURPOSE AND FLEXIBLE TO USE: Unique design allows to us it...

• COMFORTABLE ADJUSTABLE BACK SUPPORT: Kawachi Recliner Sofa Chair is comfortable and the backrest is adjustable at various angles.
• MULTIPURPOSE AND FLEXIBLE TO USE: Unique design allows to us it as a lounge chair, meditation chair, for reading, gaming, or watching TV.
• COMFORT AND CONVINIENCE: The backrest provides stability and can be adjusted to 5 different positions. The foldable floor chair cushion adapts perfectly to your natural sitting position thanks to its different angles.
• EASY TO STORE: Foldable design facilitates complete 180 degree flat fold. This ensures easy storage behind cupboard / door. Below the sofa / bed, Washable cover.
• Warranty: One year warranty against Manufacturing defects or any damage during transportation, kindly contact us on .. 9326-110-110 ( Monday to Saturday from 10:30 AM to 7:00 PM except National Holidays)

Description:
At home we are doing multiple activities like watching TV, gaming, relaxing, reading etc. every activity needs different angle for the back support. for example we need straight 90 degree posture for meditation and around 45 degrees when we want to relax. no home furniture in home gives this flexibility. Kawachi recliner floor chair comes handy with adjustable back support which is easy to adjust as per the need and can be adjusted to 6 different angles from 90 degree to 180 degree flat fold for actually using it as sleeping bed.
this chair is light in weight so can be moved from living room to bedroom or outdoor easily.
foldable design allows to store anywhere like below the sofa/bed or in cupboard

Angles and Uses:-
90 degree- for meditation
mid position angles -for reading/watching TV/gaming/listening to music(3 mid position angles to select from as per choice)
180 degree- to use it as a flat bed or while storing

Specification:
Color: Blue
Material: Iron +Foam+ Flannel +Polyester
Weight capacity of back: 110 kg
Package include: 1 x Floor Chair

Frequently Asked Questions
What is floor chair?
Floor chairs are lightweight and offer the best comfort compared to other chairs. ... Floor chairs can give you the comfort of a leg-less recliner and the lightweight design is very convenient
what material is Kawachi floor chair made of
Kawachi floor chair is having coated steel frame as the main structure for strength .it is then covered with hard PU material and then again covered with soft PU foam for comfort. The washable cotton rich material fabric is used for giving nice look and convenience
how to change the angles of the chair
Kawachi adjustable recliner floor chair is installed with special gear and it is very easy to use. Just hold the backrest and move it angular it will stop at various angles and you will notice it. If it is the desired angle then stop at that position and it will be locked at that location. To change the angle again, repeat the procedure
what is the weight of the chair
Kawachi multiangle adjustable floor chair is light in weight. It's around 4.5 kg and can be moved anywhere at home from one room to another or it can be also carried to picnic spot or outdoor activity easily

How it is a meditation chair?
one has to maintain 90 degree straight back posture while doing meditation or yoga dhyana. Kawachi adjustable floor chair provides 90 degree back support which is very useful to keep straight upright posture. This helps to improve meditation, dhyana yoga mudra. Thus Kawachi adjustable chair is also used as yoga meditation chair


Looking for a convenient multipurpose seating alternative for living room or office? The Kawachi EASY floor chair offers the optimal solution. Easily adjustable and portable, it offers the ultimate in comfort in the living room for watching TV, reading, relaxing, or creative work in the office. The Kawachi EASY floor chair is also suited for meditation and ideal for seminars, discussion groups and suitable for therapy sessions. In addition, its elegant design is a real eye-catcher. It can be easily carried and placed anywhere. Kawachi EASY can be assembled and disassembled with minimal effort, can be stowed easily and offers exceptional versatility with its sturdy, adjustable backrest. Its lightweight, high quality construction makes it easy to carry, and the portable design means it can be used anywhere, without having to sacrifice stability. Kawachi EASY Chair can support up to 100 kg .
• 1 Month Against Any Manufacturing Defect
• 7 Days Replacement Policy

Validity - 7 days from delivery
Covers - Damaged, Defective, Item not as described
Type Accepted - Easy Exchange

If you have received a damaged or defective product or it is not as described, you can raise a replacement request thru mail ( crm@kawachigroup.com ) or call (09326110110) within 7 days of receiving the product. We shall help by verifying and trying to resolve your product issue as part of the return verification process. The seller will arrange for a replacement if the issue has not been resolved

Successful pick-up of the product is subject to the following conditions being met:
o Correct and complete product (with the original brand/product Id/undetached MRP tag/product's original packaging/freebies and accessories)
o The product should be in unused, undamaged and in original condition without any scratches or dents

Cash On Delivery not available