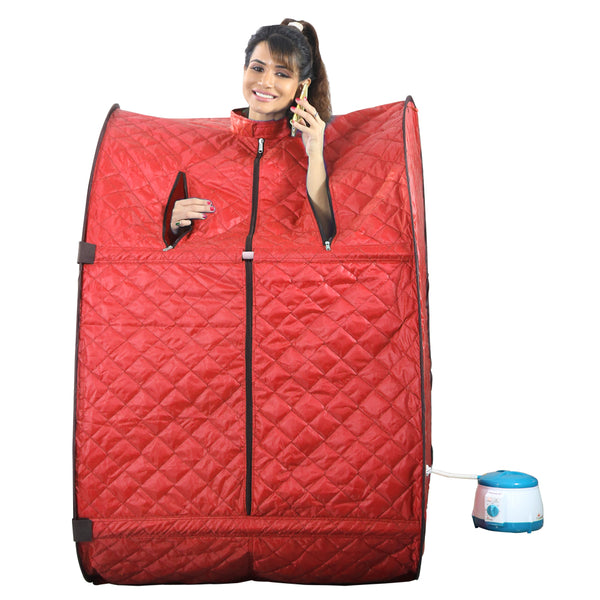 Kawachi Portable Steam Sauna Bath Panchkarma Swedan Machine for Health and Beauty Spa at Home Red I76-Red
Product Description:Kawachi Steam Sauna is smart way of enjoying steam at home.It gives freedom, convenience, privacy and any family member can use it with his / her convenience.Kawachi Portable Steam...

Product Description:
Kawachi Steam Sauna is smart way of enjoying steam at home.
It gives freedom, convenience, privacy and any family member can use it with his / her convenience.
Kawachi Portable Steam Sauna is actually combination of 2 parts.
Steam Cabin
Steam generator

How it Works:
Steam Generator produces the steam required in steam sauna and it is transferred to the portable Steam Cabin with the help of Steam Pipe.
The Steam Generator works on electricity. It is controlled by temperature thermostat so that the electric consumption can be optimum.
Steam Generator is equipped with mechanical timer so that you can adjust the steam bath duration as per your convenience.
As a standard it's recommended to use the steam sauna up to 30 minutes for optimum results. But it's personal choice and also depends on user's age and tolerance.

Caution:
Kawachi Portable Steam Sauna is a general fitness device. If any in-convenience / uncomfort is experienced, please consult the doctor immediately.
This is not suitable for heart patients, very old people, small children or pregnant women.

How to use:
Kawachi Steam Cabin is very easy to use outer.
Open the bag.
Hold the folded Steam Cabin (Which is round in shape in folded condition).
Open the cabin as it will pop up automatically due to its unique design.

Caution:
Please take care while unfolding as the pop up force can hurt body part.

Kawachi Portable Steam Sauna Bath.
Voltage: AC220/230 V (50/60Hz).
Power: 750 Watts.
Capacity of Water: 1.5 L. max.
Time-setting: 60 min. max.

Cleaning :
Kawachi Steam Cabin can be cleaned by wiping wet surface with dry cloth or drying it naturally.
In case if it's dirty or smells foul due to repetitive use it can be hand washed and then dried in shade naturally.

Storage :
Kawachi Steam Cabin can be stored (after drying) by folding it.
To fold the cabin:
Step 1: Place all 4 sides of the cabin over one another and make flat surface.
Step 2: Hold 2 corner of the cabin and twist the same to form round shape.
Step 3: Place the round folded cabin in the outer bag provided if not taken care properly, if you are not able to make a round fold of the cabin, you can keep the flat folded cabin under the bed/ behind cupboard or any other convenient place.

Benefits of steam therapy Bullet points.
Steam bath therapy is used from ancient times and also recognized in Panchakarma in Ayurveda as "Sweden".
It helps in maintaining overall health by artificially increasing the temperature of the body which subsequently produces sweat and you get benefits like :
• Helping in losing body weight/ Slimming
• Helping in reducing stress and fatigue.
Helping in detoxification.
• Helping in glowing skin.
• Helps in Rejuvenating body and Relaxing muscles.

Instructions about Storage & Maintenance
Fill the steamer with water up to the maximum water level indicator.
Connect the steam generator to the power plug.
Set the timer of the steamer to the desired time. (30 minutes is commonly chosen time duration).
You can add few drops of aroma oil to enjoy aroma therapy.
Close the LID.
Connect the steam generator to the steam cabin with the help of steam pipes provided.
Place the steam cabin on the plain surface / floor.
Place plastic stool / chair inside the cabin of convenient size.
Open the 2 way slider chain to enter into the steam cabin and close the cabin door with 2 way slider chain.
After steam is filled sufficiently inside the cabin enjoy the steam bath.

Silent features:
The unit consist of Steam Generator, Steam Cabin, Instruction Manual, and Steam Cabin Carrying Bag.
Steam Cabin is foldable, washable.
The unit is portable so it can be used at any place as per the convenience.
Steamer is provided with timer and thermostat for controlled use of the product.
• 1 Month Against Any Manufacturing Defect
• 7 Days Replacement Policy

Validity - 7 days from delivery
Covers - Damaged, Defective, Item not as described
Type Accepted - Easy Exchange

If you have received a damaged or defective product or it is not as described, you can raise a replacement request thru mail ( crm@kawachigroup.com ) or call (09326110110) within 7 days of receiving the product. We shall help by verifying and trying to resolve your product issue as part of the return verification process. The seller will arrange for a replacement if the issue has not been resolved

Successful pick-up of the product is subject to the following conditions being met:
o Correct and complete product (with the original brand/product Id/undetached MRP tag/product's original packaging/freebies and accessories)
o The product should be in unused, undamaged and in original condition without any scratches or dents

Cash On Delivery not available